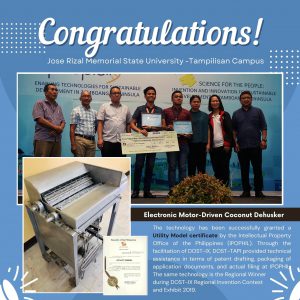 Congratulations, 𝗝𝗼𝘀𝗲 𝗥𝗶𝘇𝗮𝗹 𝗠𝗲𝗺𝗼𝗿𝗶𝗮𝗹 𝗦𝘁𝗮𝘁𝗲 𝗨𝗻𝗶𝘃𝗲𝗿𝘀𝗶𝘁𝘆-𝗧𝗮𝗺𝗽𝗶𝗹𝗶𝘀𝗮𝗻 𝗖𝗮𝗺𝗽𝘂𝘀 for having been awarded a 𝗨𝘁𝗶𝗹𝗶𝘁𝘆 𝗠𝗼𝗱𝗲𝗹 𝗰𝗲𝗿𝘁𝗶𝗳𝗶𝗰𝗮𝘁𝗲 𝗯𝘆 𝘁𝗵𝗲 𝗜𝗻𝘁𝗲𝗹𝗹𝗲𝗰𝘁𝘂𝗮𝗹 𝗣𝗿𝗼𝗽𝗲𝗿𝘁𝘆 𝗢𝗳𝗳𝗶𝗰𝗲 𝗼𝗳 𝘁𝗵𝗲 𝗣𝗵𝗶𝗹𝗶𝗽𝗽𝗶𝗻𝗲𝘀 (IPOPHIL) for its technology "Electronic Motor Driven Coconut Dehusker".
Through the facilitation of DOST-IX/ PSTC-Zamboanga del Norte, DOST-Technology Application and Promotion Institute (TAPI) provided technical assistance in terms of patent drafting, packaging of application documents, and actual filing at IPOPHIL.
The same technology is the Regional Winner during DOST-IX Regional Invention Contest and Exhibit 2019.
#ScienceForThePeople
#dostPH
#DOST9
#pstczdn
#HelpingYouUpgrade